How can we quantify the effects of environmental stressors on northern trophic systems?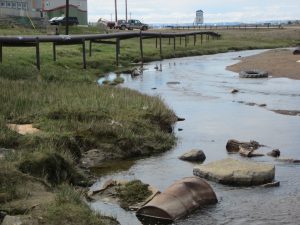 Our baseline knowledge of northern aquatic ecosystems is often extremely limited and site-specific, forcing many studies to draw conclusions assuming overarching affects between environmental conditions and biota. Few studies have attempted to validate these assumptions by directly examining the connections between proxy indicators and environmental stressors. Likewise, while qualitative biomonitoring approaches clearly identify the utility of using biological indicators to infer ecological impairment, none quantify these effects for northern regions. As resource development proposals are often in northern regions where we have little to no baseline knowledge, there is a fundamental need to be able to quantify potential ecological effects, as well as identify potential mitigation and restoration measures. Dr. Medeiros utilizes multiple transdisciplanary approaches to quantify the relationship between biological indicators and environmental gradients;
Detection of biological impairment through benthic biomonitoring
Examination of water quality through indicator analysis
Quantification of environmental health
Current locations for on-going active research:
Baffin Region (Iqaluit, Igloolik, and Hall Beach)
Previous locations of research:
Inuvik, NWT
Sahtu Development Region, NWT
Seward Peninsula, Alaska
Kivalliq Region (Arviat, Rankin Inlet, Repulse Bay, Baker Lake)
Old Crow, Yukon
Relevent Published Papers:
Balasubramaniam A, Medeiros AS, Turner KW, Hall RI, & Wolfe BB (2017). Biological responses to hydroecological change in the Old Crow Flats, Yukon, Canada. Arctic Science – Special Issue: Arctic Permafrost systems, 3(2):277-300.
Taylor DJ, Ballinger MJ, Medeiros AS, & Kotov AA (2016). Climate-associated tundra thaw pond formation and range expansion of boreal zooplankton predators. Ecography, 39(1):43-53.
Vinke K, Medeiros AS, & Giberson DJ (2015). Diversity patterns of benthic invertebrates in subarctic streams, Sahtu Settlement Area, NWT. Arctic Science, 1(1):9-25.
MacDonald LA, Farquharson N, Merritt G, Fooks S, Medeiros AS, Hall RI, Wolfe BB, Macrae ML, & Sweetman J (2015). Limnological regime shifts caused by climate warming and Lesser Snow Goose population expansion in the western Hudson Bay Lowlands (Manitoba, Canada). Ecology and Evolution, 5(4):921-939.
Medeiros AS, Taylor DJ, Couse M, Quinlan R, Hall RI, & Wolfe BB (2014). Biologic and nutrient responses to catchment disturbance and warming in small lakes near the Alaskan tundra-taiga boundary. The Holocene, 24(10):1308-1319.
Medeiros AS, Biastoch RG, Luszczek CE, Wang XA, Muir DGC, and Quinlan R (2012). Patterns in the limnology of lakes and ponds across multiple local and regional environmental gradients in the eastern Canadian Arctic. Inland Waters, 2(1):59-76.
Medeiros AS, Luszczek CE, Shirley J, & Quinlan R (2011). Benthic biomonitoring in Arctic tundra streams; a community based approach. Arctic, 64(1):59-72.